Greetings from East Alabama, to all those who follow my blog and are interested in my travels! I decided quite irrationally to leave Statesboro for the weekend and drive to my hometown of Columbus, GA which is on the opposite side of the state about three and a half hours away. However, by the time I reach my sleeping arrangements out at my mothers in Salem, AL its a long haul of four hours and fifteen minutes...including a snack/rest stop along the way. I am delaying my return to Statesboro as long as possible since it'll be back to reality come Monday morning, so for my blogging purposes this week I am writing on a sketchy portable wifi connection in the woods, and then will continue at my fav local coffee shop in downtown Columbus, Fountain City Coffee.
For starters this past week has been pretty spectacular. Monday and Tuesday the first critique of the semester within the graduate department went underway and needless to say the roast was not as "hot" as I expected. I am trying out a new style of making that incorporates all my past research into one collective piece, and am attempting the defy gravity as best I can. Since January, I have used class-studio time attempting to develop my artist statement in a way that makes it reflect my work and vice versa. Needless to say this is quite difficult and is probably the single most bothersome thing to deal with as a studio artist. When a new method of making comes into play, the statement must change as well to reflect this new style which is proving irksome indeed.
Let me break it down my past semesters and what all has happened within my studio so you can understand my current studio situation a bit better.
Semester 1, I came to Southern wanting to do basically what I had left off doing in undergrad which was welding and making large sculptural works. After I graduated undergrad in '13 I spent two years trying to get into a graduate program any and everywhere. I traveled, read abundantly, and felt like every application fee was just a waste of money because the work I was making outside the university system wasn't what I wanted to be doing. I was making mixed media paintings (I know right...me...painting...ha!) It was all I could get my hands on materials wise so I called the body of work Making it By, By Any Means Necessary, which is what is seen below.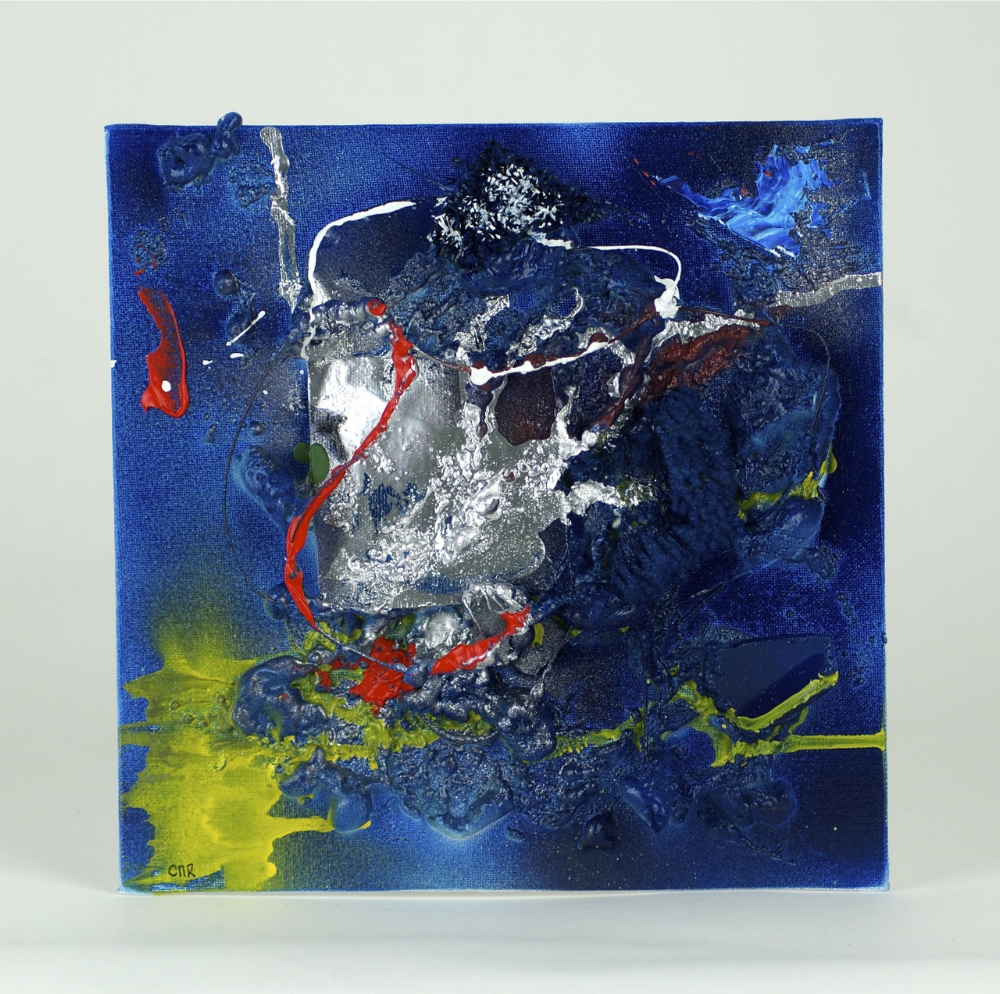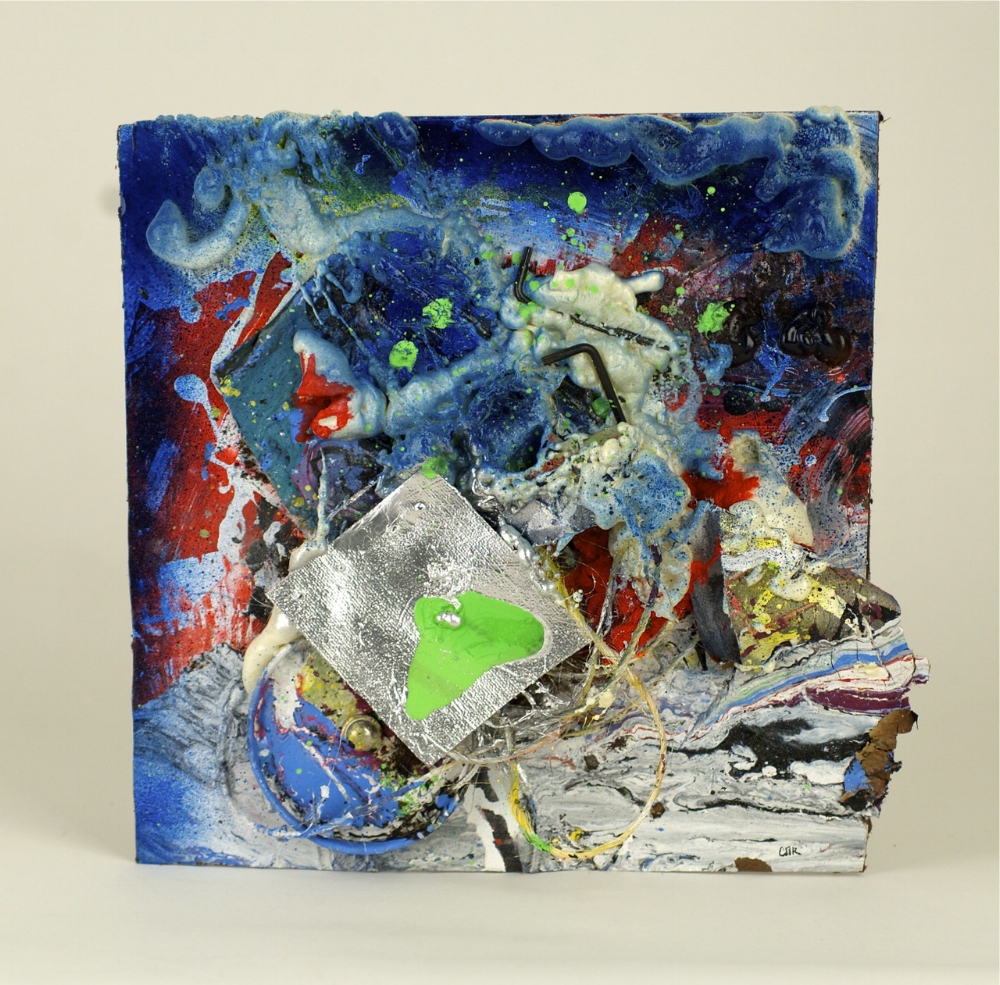 Losing access to a studio space with tools and equipment made me harshly reassess my craft and purpose during those two years. So upon arrival at GSU, I landed in an enormous open room to myself, with limitless directions in art I could take--- I felt completely lost. The solution? Do what you know-weld, paint, sculpt. That whole semester I spent it making crap. Literally, it was some of the worst work I feel I have ever made looking back at them. They had purpose for the moment and they opened me up to new possibilities for me down the road. In terms of their depth theoretically, historically, and their placement in a contemporary art world context: what a bunch of total crap. I count them as stepping stones to what happened next.
Semester 2, I had no where to go for Christmas break so I just lived in the studio while the rest of the town vacated to bigger and better things. This is when I feel back into clay. I had spent the whole first semester working in the ceramics studio as the graduate assistant and had been making things here and there on the side, but I decided give it a shot and work in the material I had worked in a majority of my undergrad, all of high school, and even so far back as sixth grade when I took my first ceramics class. That semester I developed new techniques with clay, fabrics, and clay bodies. It really was an eye opening semester of research and development.
Semester 3, was the moment of all out turmoil. It was my 30hr review, in which I had to make work to survive, literally. This semester I pushed the processes I had worked on further and further and made more relatable work to what my artist statement had been hinting at. I was getting closer to where I am now and I really felt like the introduction of casting ceramics, as well as using wheel thrown pieces, and hand built parts made my work better. I was pulling out all the stops for my defense and in the end I passed allowing me to get to where I am now.
Semester 4, the semester of "last chance experiments" before the final year of thesis work begins. I am combining all my past experiences in the studio into one complete work. Expanding off the pedestal, onto the floor and the wall. Removing work form the obvious context and putting it into a more developed and understandable realm. I finally feel like my pieces are starting to get to the meat and potatoes of my statement, but I've got plenty more research to do. The last actual class I am taking aside from studio time and thesis work this semester, Art in Systems taught by Jason Hoelscher has opened me up to so many new things in the discourse of art. In the class we read articles, papers, magazine posts, and even some of his personal conference papers on topics spanning the art world. I really enjoy it, and believe it's making my work stronger than it's ever been, which is why I choose Hoelscher as my Thesis Chair for the next year. Having him help me push my ideas further is really going to challenge me and I look forward to the outcome.
Thats where I am at; it's been a long haul, much like my drive out here to Columbus but worth the trouble. We had an visiting artist Alicia LaChance come down from St. Louis to talk briefly about her work in the exhibition in the Contemporary Gallery at GSU, Flatbed Picture Planes as well as do individual visits with us graduate students. She was beyond inspiring, mostly because of the support she showed me throughout our talk in my studio. I showed her what I was currently working on (soon to be finished for you viewing pleasure), as well as past work and my website. We talked about future plans and what sort of things I needed to get into during my last year. The Craft Alliance Center for Art and Design was the biggest thing she turned me on to. After hearing about my residencies in Ireland, and some of my recent shows she insisted I reach out to them and make a connection. I've looking into their page and what they stand for in the arts and I have to say I am really interested in what could happen. It's one of the many things to dig into on my list of things to well, dig into!
She also mentioned an artist to me named Kahlil Robert Irving. LaChance mentioned him mostly I believe for his use of materials, as well as his fellowships and exposure in the art world. After looking into his page and reading a few articles on him I can see why she made the connection. his website describes his work as:
I intend to keep in tough with Alicia in the future just in case I am ever up in St. Louis and want to grab a coffee and a small pick me up of kind words and harsh criticism. It's always nice when a visiting artist makes a real connection with us graduate students. Makes the future of "what do we do after we graduate" so much better feeling. Aside from that, it's been a busy week of planning travel, trips, and adventures.
This summer the graduate department will be taking a trip to Germany for a study abroad extravaganza. I am in the works planning the itinerary, where we are staying, and what we are doing with my Professor and fellow grad student Jessamy and Cyndy-and what a rush it is! Kassel, Germany for the Documenta 2017. Venice, Italy for the Venice Biennale 2017. And Berlin, Germany because well it's Berlin and why not?! Thats just a small two week stent of my eight week adventure. I'll be in Ireland again for five weeks for the EC Waterford, Ireland program as the resident, and then I'm taking a personal six day trip around Europe while I wait for my Germany trip to start. Edinburg, Scotland, London, England, and Ireland all over again is on the to do list with my step mom who is coming over to take part in the shenanigans with me.
As for me I am going to enjoy the rest of my Sunday with some light reading in my Networks book for class, as well as maybe take part in some Super Bowl festivities. I don't follow football, but apparently it's kind of a big deal that some team as made it this far. In my attempts to be well rounded, I guess I should know a little something about whats happening outside my "world".