For the first time in a long time I took a weekend for myself, and stayed in Statesboro instead of venturing out into the great beyond for school, work, play, or educational purposes and actually accomplished a number of things on my to-do list. I managed to do laundry, grocery shop, and pay attention to my two cats-all of which needed to be done badly in terms of my home-life and the general maintenance that is required on ones part for keeping their living quarters, well, livable.
Studio time has been used to great success I must say, in that I have really up'ed my game this week in terms of work completed and started. It is midterm week at Southern, which means midterms were made, given, and graded. New projects were distributed ate discussed, and this next week will consist of due dates and critiques within my classrooms. That hasn't slowed my progress in the studio though. I am at about what I will say is the 95% completion of my largest piece in the making, and intend on finishing it off later today, along with a few smaller pieces I am working on.
Last Friday was the all faculty critique day, since then my presentation has been re-examined in our class group crit Monday and Tuesday. I appreciated the honesty of my classmates and what they had to say about my current work on when they got a chance to see it in person. Even though they saw the pieces in their "half baked state" because the kiln they were misfired and nothing fully fluxed, I feel they could still see somewhat my vision. The partially developed colors and the hazy white-wash over the five pieces wasn't talked about much to my relief, and instead we discussed the forms themselves, the craftsmanship, and their maximalist aesthetic.
We also talked about all my major influences in the work and where I was headed. I read off to them my topics of interest, which I have mentioned multiple times in previous blog posts, but my professor Derek brought up some new points I hadn't thought of. He mentioned that I should look into the more "surface" and "face value" topics that my work references. I brought up people like Hieronymus Bosch and Bernard Palissy, who are both from the 16th century as some of my historical influences and then all the new contemporary artists I referenced in last weeks blog ATL Vs NYC. Derek told me that my work has much more potential than just what I've been touching on and that bringing in some current politics such as the new EPA regulations as of 2017. I intend on discussing the topic further with him this week during my studio visit with him on Tuesday.
Wednesday was a day full of building, and back tracking in my notebook for past references, comments, and techniques. I have been trying very hard to make it a point to expand upon all the information given to me when someone references an artists, or a topic to me. Usually I would just go and look up whatever was said to me and then read a bit on it and move on, but now I try and relate it all. Seems like it would be obvious to have done this in the first place but in all honestly I wasn't starting to connect all the bigger ideas until recently, with the help of my current theory class, Art in the Age of Networks taught by Jason Hoelscher.
This is where the title of this blog post comes into play, sorta.
In class we have been reading articles all relating to system aesthetics and the network analogy to the artworld and the artworld discourse, that we as students of art play a role in. Even though I am just scratching the surface of the theories within the artworld and how they are all inner related to one another I still find the theory itself fascinating to say the least. Every essay we read is a new brain busting explosion of ideas, and concepts that opens up a whole new set of "adjacent possibilities" in the grand scheme "effectuations" (all these quotation-ed words are new things that I am just beginning to understand, so bare with me). Things like "Incorporeal Transformations", which is Deleuze and Guattari's philosophical account of expression and content in "The Geology of Morals" and "Postulates of Linguistic" chapters of their book A Thousand Plateaus. It is from my understanding the idea of change without actual change occurring-- just a change based off of implication, context, and language. This along with the collective assemblages of enunciation in language can then open up new understandings to art related things such as a vitrine. Which is what I am writing my argument driven paper on for the class, as well as hopefully later presenting a small version at Southerns Graduate Research Symposium, and then the full developed version of the paper at SECAC in October in their panel regarding the use of a vitrine and it's implied context.
So what does all this theory talk have to do with my artwork then? If I am getting hung up on the language of things, how does my art then relate back to it all? Well I am learning that it is all in the way you talk about things that ends up making the art work successful or not. Of course the artist statement is just a small part of the "whole" of being an artist, but how you talk about the work in general is also key. Knowing the discourse, or all the presuppositions (PSP's) about the work in question places you within the three art world ontologies, and lets your opinion actually matter. By knowing what my work is, and is not, I can explain better to my audience what is it I am making, and most importantly why. For me, the articles we have been reading, the presentations I have been preparing for is all just part of the bigger game, again, as a "whole".
Knowing the bigger context provides the content for the work. This I am learning to be fact, and I feel like my work is developing along the same speed of understanding, the more I read and write about my work.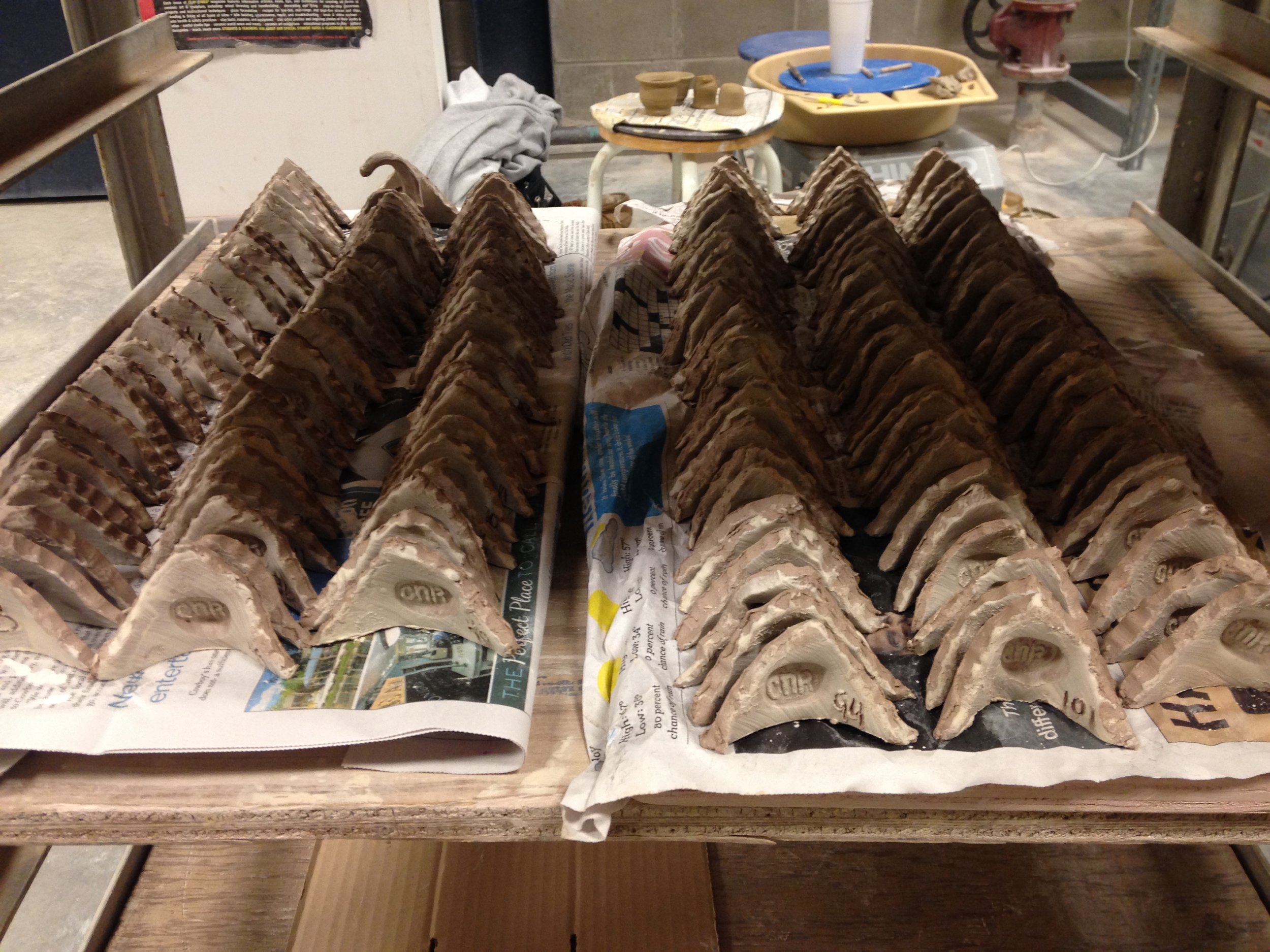 In terms of new developments within my research practice for influencing artists, and artworks I have been back tracking and looking into old references. After spending most of my Saturday prepping for this weeks overhaul in the studio by making/doing all of the following:
150 triangle test tiles for glaze tests
testing new materials/textures for possibly making my work "lighter in weight"
new glaze tests at lower temperatures at cone 04, instead of cone 6
developing a new gallon of casting slip slightly different from my original formula
making a half batch of my porcelain dunking slip, to cast more fabric
hunting and gathering $56.00 of ceramic plates, teacups, mugs, saucers, and bowls from goodwill
re-firing my "half-baked pieces" to cone 6, only to realize most of my bright colors burned out
finishing up my large piece to 95% completion
casting a whole new set of molds (about 15 different molds)
started on 3 new smaller pieces (two frogs, and an owl)
tweaked my artists statement and the specific terminology used
I really haven't looked too deeply into a new artist, because I spent so much of my time actually making in the studio along with digging into the theory of incorporeal transformations by reading additional material by Deleuze and Guattari. I needed it though. I needed to just work and try to generate my own, internal influence this week.
Sometimes I feel like even though all the reading and research I do is all beneficial to my work, finding that balance between working and reading has been hard for me. I tend to go all in on something. Either I read for hours on end, or a work. I'm not too good at doing one or the other, if it isn't obvious in my blog posts (They are much longer than the required length and cover much more than they need to.) But this is just how I am, and how I have been working since I got here (to grad school). Everything is written down, and researched to the point where I feel at least comfortable with the topics.
My professor Jeff keeps telling me that as long as I keep working the answers to what the work is about will come, in time. So I just keep putting in the hours and hope that eventually I'll get some kind of "ahh-ha" moment. I feel that I am close. I think after I sit down and actually have a solid meeting with my chair for my thesis committee, and get some of my "facts" laid out about my work I will be in an even better place than I am now.
Plans for next week are to dive into working on a new piece incorporating more negative space into the work, as well as less weight. I am also having to make new sculptures from cloth, string, fabric, and cardboard, just so I can then break them for use in my current work. All that materials research I did two semesters ago, to make my "fabric" sculptures, has now become a part of the process for the new works seen here. I also have all my 30hr MFA Candidacy Review artwork up on my website now, so look for that final upload so you can see the jumping off point from last semester to what I am doing now.
Here's to being half way through the semester already!